None of us set out only to quit, right?  But why is it that we quit on ourselves so much?  Let's break down the anatomy of an epic QUIT.  Once you understand what is actually happening, you will have so much more power over your impulse to quit.
Before you can quit, you have to commit to doing something, which means there is something more you want for yourself.  We commit to marriage.  We commit to finishing school.  We commit to losing weight or to stop smoking.
You see something you want.  You believe it is possible that you can get it.  You come up with a plan.  Then you commit.
When we decide to commit to something we want, it is usually because our human brain (the executive part of our brain that weighs the pros and cons) believes there is a long-term gain for the effort we will have to put in.  Often, we must delay instant gratification to go after that thing we believe is best for us.
So we set out to get the thing.  Do the thing.  Stop doing the thing.  Whatever it is.
Eventually, what happens is we get uncomfortable.  This is because of either of two things: it requires more effort than we anticipated OR we are faced with a competing thing we want.  Either way, the reason why we decide to quit is ultimately because we give in to our primitive brain (the part of our brain whose job is to keep us alive).
Our primitive brain makes its decisions based on the motivational triad – 3 priorities that keep our immediate interest front and center: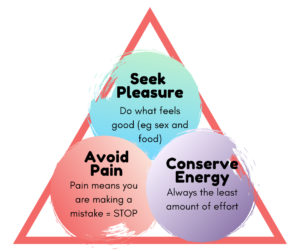 Take a moment to appreciate that no where in the motivational triad is your long-term well-being an important consideration.  It's all about instant gratification.
So let's use an example: removing sugar from my everyday diet.  I know this is killing me and making it impossible for me to lose weight, so I am removing it from my diet with only pre-planned exceptions.
I feel good about it.  I believe I can do it.  I have a strong compelling reason.  I am committed.
Then I wake up to my husband making french toast.  It looks and smells amazing.  There is whipped cream and strawberries.  There is maple syrup.  And there is no warning.
My human brain knows: this is not an allowed food in my diet and I did not plan this ahead of time.  Eating it will be a failure.  I have been 100% strong on my plan for 8 days now, longer than I've ever been able to eliminate sugar.  I have lost 2 pounds already, and I feel amazing.  I am also noticing less inflammation in my body and fewer afternoon slumps.  It says to me: "You can do this.  You can always have that tomorrow by planning an exception ahead of time."
BUT my primitive brain is shouting above the rational thoughts:
I WANT THAT.  MMMMMMmmmmmmm it looks SO GOOD!!!  It would taste amazing! (AKA seeking pleasure).
Not eating that would be PURE TORTURE!  I can't stand the HUNGER and DESIRE! (AKA avoid pain).
It's TOO HARD to fight it!  JUST EAT IT ALREADY! (AKA conserve energy)
Notice these are all thoughts by the way.  Thoughts that create all kinds of feelings: urgency, overwhelming desire, and deprivation to name a few.  Feelings drive our actions, so if you allow these thoughts to run rampant all up in your brain, your action (understandably) will be to eat the freaking french toast.  Duh!
This is where people quit.  Their primitive brain is allowed to take over the show unchecked.  It makes such a strong and loud argument that it convinces us we are not capable of achieving our goals.
Quitting feels like relief, but it is only temporary.  Soon, there will be regret, shame, and despair.  Quitting is a false pleasure because it gives temporary relief in exchange for long term suffering.
So the regret, shame, and despair set in, which we can't live with.  So we commit again.  But as soon as we are uncomfortable, we quit again.
I love this quote from one of my mentors, Brooke Castillo: "We don't know how to be uncomfortable.  We can't stand the discomfort of not achieving our dreams, and we can't stand the discomfort of achieving our dreams.  So we just go back and forth, which is a terrible way to live your life."
Quitting is an action.  It follows a thought and a feeling, just like I showed you earlier.  It might seem like the situation is what is causing you to quit, but that is never the case – it always comes down to your thoughts.
Here are some of my favorite thoughts to think that lead me to quit:
"I can't handle another second of this."
"This is too hard."
"It's not fair that I'm the only one that has to deal with this."
And then we start to justify why we are quitting.  We have so many good reasons for why we can't achieve our goals.  "It's not a good time to take this on."  "It was my birthday, and then it was Thanksgiving, and then the holidays."  "My family hates it when I go on a diet."  We get good at believing we can't do it.  We get good at making excuses.
So how do you stop doing this?
I hope this post explains what is actually happening in your brain so you can learn the first step to not quitting: awareness.  You can start catching on to what is going on in your brain and how it drives the action of quitting.  Then you can separate your 2 brains and start calling your primitive brain on its BS.
Then we need to learn to deal with the discomfort instead of responding to it with quitting.  We need to replace the thoughts that create deprivation and urgency with thoughts that strengthen our commitment.
And when we fail, instead of giving ourselves a mental beating or quitting, we need to:
Refocus on our goal
Learn from the experience by developing a strategy for the obstacle we encountered
Remind ourselves WHY we started, and
Recommit with powerful thoughts that we will accomplish the goal NO MATTER WHAT
All of this happens in your mind.  And the best news is: This is 100% in your control!
What's fascinating is that when we don't commit, we are actually committing to staying the same.  Are you tired of making excuses and giving up on your dreams?  Are you sick of going back and forth between suffering now and suffering later?  Do you want to learn how to set goals and actually achieve them?
This is my favorite thing to do!  As a certified life coach, I can show you what you are doing that is NOT working, how to overcome the obstacles in your thinking , and how to develop a deep commitment to going after what you want NO MATTER WHAT.  💪
I help people reverse their Type 2 Diabetes and reduce or eliminate their medications.  Let me help you.  Reach out to me here and I can answer your questions or even set up a time to chat: